Please note; Using Google Maps or other Maps Apps for directions will not be correct.
Please use this link for the map, and turn-by-turn directions, to one of the best night-time experiences.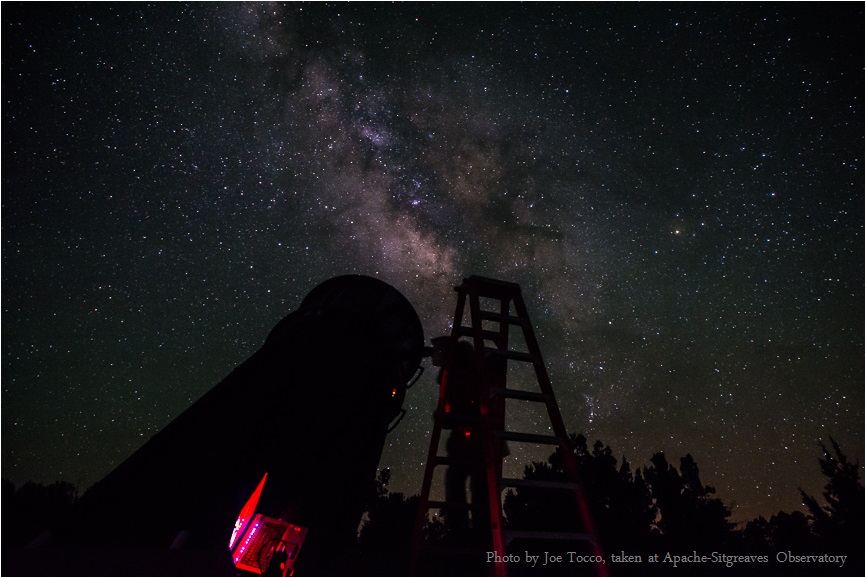 See the Event Calendar for Ticket Purchases.
The Apache-Sitgreaves Observatory in Overgaard, AZ borders the Apache-Sitgreaves National Forest and with Meter-Class telescope (36-inch, 0.914 meters diameter) at our World-Class observing site (skies measured to be darker than Lowell, Kitt Peak and Mt. Lemmon), offers some of the best astronomy viewing using the Southwest's LARGEST dedicated public telescope, and, if 36-inch telescope aperture wasn't enough, there is an 8-inch Schmidt-Cassegrain telescope bolted to the side of the 36-inch telescope! This is fun for all ages...an awesome experience!
* Night Sky Observing Program.
Apache-Sitgreaves Observatory using a 36-inch telescope, provides stunning detail of planets, nebulae, and galaxies. This is fun for all ages..., is open to the public most nights of the year..., an awesome experience!!!
* Couple's Night - Night Sky Photography Workshop.
A romantic night under the stars learning about cameras, astronomy, and, each other. Everything is provided for you; Camera, Wide-Field Lens, Tripod, World-Class Dark Skies, and, advice to take your very own beautiful star-filled images. Learn the constellations, how to photograph the Milky Way, capture star trails, long exposures, and light painting. A general astronomy course so you can easily understand moon cycles, Earth's orbit, how to find the Milky Way, planets, meteor showers, etc. Note; this does not use a telescope, but is a fun way to learn about cameras. Note; no telescopes are used in this workshop.
* Citizen Scientist Activity; Meteor Shower Viewing and Analysis.
Come for the fun of it or join in on the science of documenting the meteors you have seen. Throughout the year there are spectacular displays of 'Shooting Stars'; known as Meteors, streaking across the sky. On select nights we set up for a late-night meteor viewing adventure, clear or cloudy. It is fun just to discuss astronomy, the constellations, Earth's orbit and how it intersects with debris left by comets which burn up in our atmosphere. If you do want to participate in the Citizen Scientist activity, all materials will be provided. If you just want a fun experience we have that too!
* Daytime Solar Observing Program (using both eyes and ears!)
See the Sun's surface safely, view the Solar Spectrum, and, hear the Sun on our decametric radio telescope.
Highlights that may happen on upcoming nights, which are sure to please!
There could be a meteor seen from a major Meteor Shower, a meteor called a sporadic meteor which is random particles burning up in Earth's atmosphere, Jupiter, Saturn, Mars, an International Space Station Fly-Over, Iridium Flare which is sunlight reflecting off of the Iridium satellite's solar panels.
More info;
Apache-Sitgreaves Observatory has the largest public viewing telescope in Arizona.
From Phoenix your drive time will be about two hours to visit us in Overgaard.
We are at nearly 7000 feet elevation so having a warm coat is advisable as night time temperatures can be considerable cooler than at lower elevations.
Night programs starts in early evening and accommodate varying size groups of people. We can accommodate larger groups for special purposes, or, your smaller group for your personal family fun (call for more information).
This program starts throughout the year at 7pm, 8pm or 9pm depending on the program.
CANCELLATION POLICY: Should the Apache-Sitgreaves Observatory cancel the program for any reason, you will be given a full refund or offered the option to reschedule (which most people choose because they are so excited to look through such a large telescope!) Programs may be delayed due to several reasons, weather being one, and can start later than planned.
CANCELLATION POLICY: Certain programs have no cancellation or refund as they are held rain or shine.
CANCELLATION POLICY: Should YOU cancel your tickets to a program you are responsible for all fees. Please contact us by email or phone to initiate a refund minus all fees (or to reschedule your deep space adventure for another night on the Event Calendar).
With low levels of illumination, step-ladders, and a duration of 3 to 3.5 hours, this program is not suitable for young children and may not be for those with mobility issues. This program requires moderate physical agility and ability to ascend/descend 3 - 5 steps on a step ladder. The Apache-Sitgreaves Observatory area is NOT wheelchair accessible.
Trained service dogs are permitted, but otherwise no pets are allowed at Apache-Sitgreaves Observatory.