This Page Is For Fun Yet Very Useful Devices.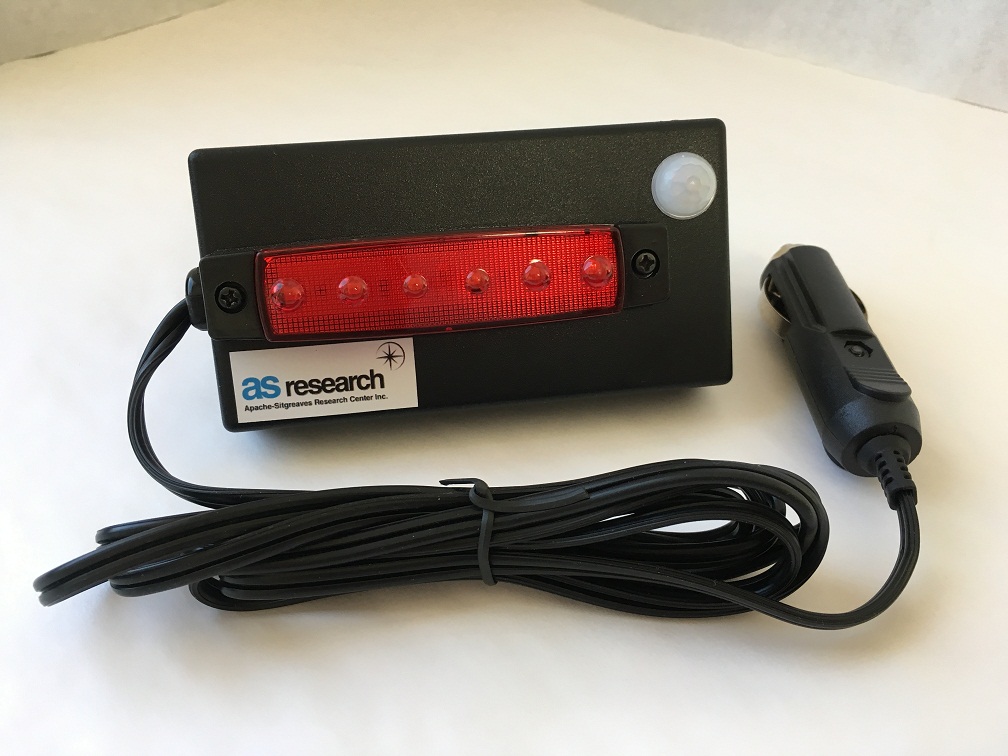 SentryBuddy - The Motion Activated Red Lighting!
Why is tracking bad? Did that person accidentally kick your imaging tripod? With the SentryBuddy Motion Activated Red Lighting you will know before your polar aligned tripod gets kicked because you have a SentryBuddy on duty should someone or something wander too close.
I know many have thought "Who or what just walked past your eyepiece box?!? Where did that Nagler go, I didn't use that one tonight!" Use the SentryBuddy Motion Activated Red Lighting to light your eyepiece or accessory box as you (or someone at a public star party?!?) approaches. Great for lighting up the hitch area of the tailgate of pickups and minivans. Save your shin!

The Flip-Filter Goggles.
You will enjoy using your AS Research Flip-Filter Goggles, and your friends will get a chuckle, but, they will also be asking to use them!
These special goggles have AS Research 2" threaded ports for a pair of nebular filters. Filters screw in, like putting a filter on an eyepiece, and AS Research Filters can be ordered with this cool gadget for viewing all your favorite nebulae. The filter rack can flip up, out of the way for an unfiltered view of the nebulae (if you can see them(!)). An added feature is that they block all side lighting getting you to perfect dark adaptation.
Experience the night sky like never before!
Here are reviews by actual users of the AS Research Flip-Filter Goggles.
AS Research Flip-Filter Goggles by "J.T."
"The goggles are a great idea and I love that they flip up. I do love how they shield ALL lighting from the sides and eliminate any distracting images (like red-lights and movement.)"